Primary tabs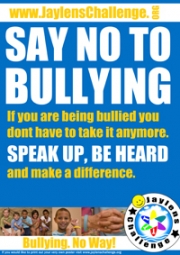 Say No To Bullying - Blue
This educational poster has been created and made available to you free of charge. Designed to be printed off and placed in schools and/or any other organization where bullying may be a problem.
We encourage all of our visitors to take the time to download our posters and help us raise awareness.
Without the support of our supporters we do not have a campaign.
There is no charge for these high quality super fabulous posters, but if you find these useful we urge you to please consider a donation.
Downloading the posters is simple. Click on the link below and unzip then print them off on A4 paper.
We appreciate your support.